BenQ's Joybee GP2 – A Video Projector for your iPhone
The Apple iPhone
lineup is one of the most popular smartphone families on the planet, with over 37 million handsets sold in the final quarter of 2011 and no signs of its domination coming to a close.
Since the launch of the iPhone 4 the camera capabilities and in particular the video recording qualities have become a key asset of owning an Apple handset – but watching your clips back on the phone itself is not always that rewarding. Meanwhile, for some, transferring videos to your PC or trying to connect your phone to a TV is often complicated and confusing.
This is where the BenQ Joybee GP2 steps into the fray. It is a mini projector designed to be portable and functional and it is specifically intended to work in tandem with an Apple iPhone or other iOS device, such as the iPod Touch.
The Joybee GP2 is portable enough to pick up and pop in a bag without weighing you down, which makes it a great projector to take with you. BenQ has considered its portability to the extent that the battery is actually detachable, which means when mains power is available it will not take up more space than is needed. Of course with the battery on board it becomes a truly versatile projector and can deliver 100 lumens of brightness and screens of up to 160 inches in size for up to three hours at a time when used in conjunction with its rechargeable cell.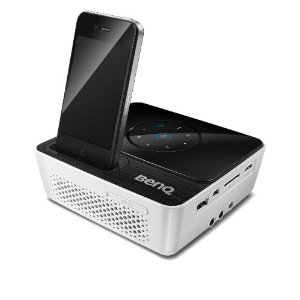 There is a simple array of interface buttons on the top of the projector and there is also a dedicated docking space which you can use to sit your iPhone or iPod Touch upright while its content is being accessed. Built in four watt speakers deliver decent audio performance and you can even use the projector to playback music files from your iPhone when you are not lighting up any flat surface with images and videos from the handset.
Like all good projectors the Joybee GP2 is not limited to functioning with a single device. It has a number of inputs, including HDMI for 720p playback and a USB connection to let you plug in any PC or laptop without having to resort to finding a D-Sub analogue cable to get the job done. You can place it just a meter away from any surface and enjoy crisp, clear imagery across 44 inches of projection area, which makes it good for using in tight conditions when there is not much space. When the projector is plugged into the mains you can get a full 200 lumens of brightness and an excellent contrast ratio of 2400:1 so that the blacks look deep and the whites are well defined.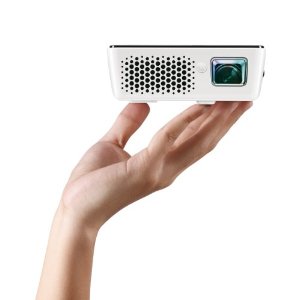 BenQ's Joybee GP2 is easily able to outpace the manner in which a smartphone deals with video playback, but its small size and detachable battery unit makes it suitable for impromptu projection sessions at home or on the move.