Optoma PK201 Pico Pocket Projector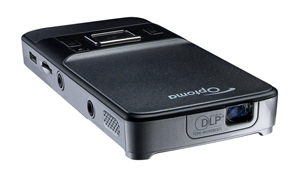 The Optoma's PK201 Pico pocket projector is a cool little projector that is ideal for business presentations or sharing photos and videos with friends. The handheld DLP projector produces a powerful 20 lumens and and projects in 16:9 WVGA widescreen resolution. The projector has amini HDMI port making it easy to connect to almost any device.
Features
Has a MicroSD slot for 16 GB of additional memory expansion
Up to 66 foot projection
Energy efficient LED projector lasts 20,000 hours
Connects to most video sources: USB, VGA, HDMI, etc.
What's in the Box
Rechargeable Battery, Power Adapter, USB Cable, Standard A/V Cable (RCA to Mini-Jack), Universal to VGA Cable, Carrying Case